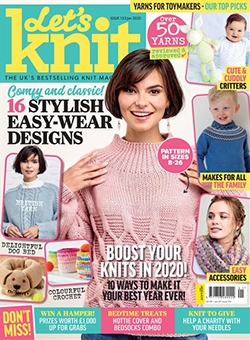 Let's Knit is the vibrant, lively, modern face of knitting. It give today's knitters exactly what they want - quick and simple patterns, the best trend-led features, and easy-to-follow tutorials. Every issue comes with a free high-value yarn kit and accompanying patterns so readers can get knitting straight away. Let's Knit provides exclusive patterns suitable for all styles, sizes and skill levels, from simple, classic garments to others with a fun, modern twist - and everything in between. It uses a clear, user-friendly format which helps to make each pattern simple to follow. When readers open a copy of Let's Knit they instantly feel part of a club, with opportunities to get in touch and show off what they've made.
Let's Knit is published 13 times a year and is the UK's bestselling knitting magazine. It provides everything the modern knitter needs.
13 issues a year
You may also be interested in...