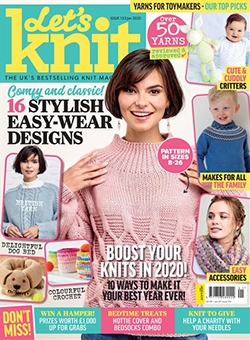 Let's Knit calls itself the vibrant, lively, modern face of knitting. It offers today's knitters quick and simple patterns, trend-led features, and easy-to-follow tutorials. Issues comes with a free high-value yarn kit and patterns that allow readers to get knitting straight away. The exclusive designs are suitable for all styles, sizes and skill levels and are classic garments with a fun, modern twist. It uses a clear and user-friendly format with practical tips for making each pattern simple to follow. In short, when readers open the magazine they immediately feel part of a club.
Let's Knit has a big following in the UK and it's the perfect title for those who want to discover (or re-discover) the knitting bug. In BSL's humble opinion, there is none better so ask now about kickstarting this great title in your country.
13 issues a year
You may also be interested in...