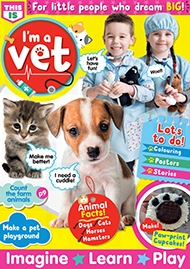 Kids love to dream about what they will do when they grow up and being a vet always comes high on the list. I'm a Vet from DC Thomson is a special issue magazine that encourages children aged 3-6 to imagine, learn and play. It includes adorable posters, animal fact files, stories, farmyard fun and colouring pages. To aid learning, animals have to be matched with their young, pets have to be found and counted, and children are encouraged to learn how to look after them. There is also a section that shows exactly what happens on a visit to the vet.
I'm a Vet is the perfect introduction for kids who adore animals and want to learn how to look after them in health and in sickness. Kids love it.
You may also be interested in...