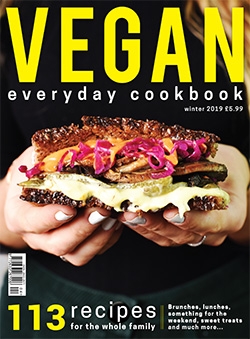 Veganism is good for the planet but giving up on animal products can also be tough. Vegan Everyday Cookbook takes them all on-board, from long-time devotee through to the newly vegan curious. Readers love the 100-plus tried and tested dishes created with love and care in the kitchen of sister magazine, Plant Based and all assembled in a handy structure that make choosing the daily menu a simple pleasure. Preparation is carefully explained and snuggled in-between the dishes are handy and clear explanations of the ingredients used and the benefits the vegan diet brings to our personal health and the eco system in general.
Vegan Everyday Cookbook is a bookazine you cannot afford to miss and it will find dedicated readers everywhere it goes. Get in touch now to ask about publishing an international edition.
You may also be interested in...