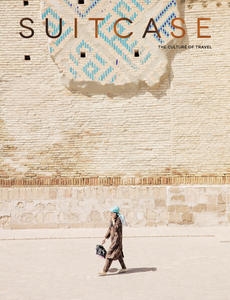 SUITCASE is the world's first multi-media travel and fashion magazine targeting readers with a global mindset. Through a quarterly print magazine, daily updated website, weekly newsletter 
and experiential events, Suitcase Magazine hopes to change the way you travel, with an ultimate aim of bridging cultures and connecting people. One step ahead of a tour guide, SUITCASE aims to inspire people, to help them discover different destinations; in essence, SUITCASE exists to change the way people travel. As a travel brand, we're frequently asked how we balance a thirst for exploration with the negative impact that travel has on the planet. Be it climate change from carbon emissions or the pressures of over-tourism, the detrimental effects of globetrotting are undeniable. So, should we all stop travelling? But a careful, considered approach to the trips we do decide to take is paramount. At SUITCASE, our intention has always been to provide our readers with thoughtful, informed recommendations, encouraging slower and more mindful travel. We hope we help you to travel better, and always love hearing your stories from around the world.
SUITCASE is published bi-monthly for pioneering women aged 18 to 35. The title to make travel more fulfilling and exciting with its experimental approach. Perfect for licensing, its content includes travel guides, photo diaries, culture, food, art and events.
6 issues a year
You may also be interested in...