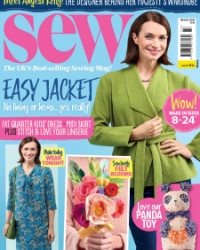 SEW magazine leads the field with its home décor makes, style inspiration and fashion ideas, with disciplines from embroidery and appliqué to dressmaking, cross-stitch and smocking. Every issue has projects, including bags, jewellery & accessories, kids' clothes, toys and full sized adult garments. There's always something that readers can set out to create right away and the magazine caters for all skill levels, from first-timers through to seasoned stitchers. It also gives readers a free dressmaker's pattern with every issue.

Licensing is easy and inexpensive with SEW and the publisher is happy for prospective partners to publish one or more test issues before committing to a full license.
12 issues a year
You may also be interested in...